Chronicle of a Disappearance
Elia Suleiman, 1996, 88 min, Arabic Hebrew French English, Drama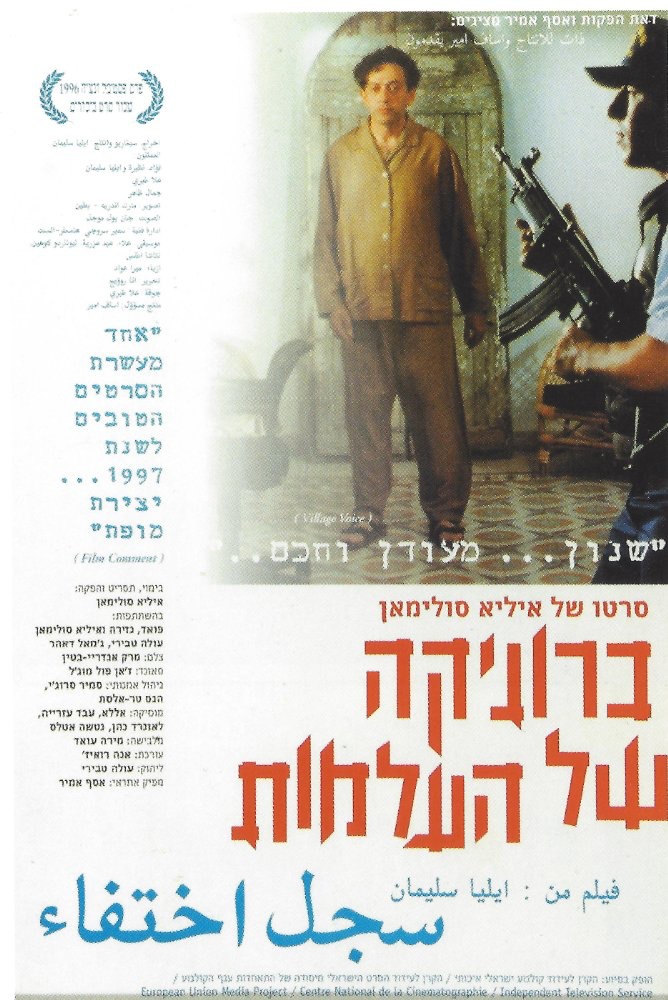 "Bergman wrote an intelligent and precise screen play and dialogues which encompass within them whole worlds… he directed his film with a sure hand and produced a symphony of emotional power"
Yehuda Stavi
Yedioth Achronoth, July 25, 2002
"…Broken Wings was a surprising choice for this year's Grand Prix… Broken Wings' effectiveness lies in its deep, resigned feel…"
Naomi Tajitsu
The Daily Yomiuri
"…Exceptionally subtle and intelligent…"
Amy Taubin
Village Voice
"An elegant, serenely ironic, and accomplished first feature"
J.Hoberman
Village Voice
"The film is one the most beautiful and moving produced in Israel in recent years… with intelligence, warmth ,understanding and with a good deal of humor"
Uri Klein
Ha'aretz, July 25, 2002
"What a pleasure to discover a young talent, to see a wonderful and moving film, and walk out of the hall with eyes moist from emotion… a combination of tears, laughter and enjoyment"
Gidi Orsher
Army Radio Station, July 25, 2002
Best Film by a New Director
Luigi De Laurentiis Award – Venice Film Festival, 1996
ARTE Award
Nantes Three Continents Festival, 1996
Silver Montgolfiere
Nantes Three Continents Festival, 1996
New Director's Showcase Special Jury Prize
Seattle International Film Festival, 1996
Best Film
Israeli Critics' Choice, 1996
In His Debut film, Palestinian director and actor Elia Suleiman, stars along with his family members. Suleiman plays himself returning to Israel and the West Bank after a long absence. The movie deals with the restlessness and uncertainly of being a stateless Palestinian.
Chronicle of a Disappearance is a journey in search of what it means to be Palestinian. It is a compilation of possible truths, transgressing genres and blending fact with fiction to explore the intertwined boundaries of story-telling, history and autobiography.
The characters wander through a social and political labyrinth in an attempt to break free from their ghettoized existence. Suleiman expresses the rift between his native birthplace and himself. He moves between being a character and being an observer, a mediator and a storyteller without a story.
Elia Suleiman – Himself
Nazira Suleiman – Mother
Fuad Suleiman – Father
Ula Tabari – Adan
Jamel Daher – The owner of the Holyland
Juliet Mazzawi – The aunt
Fawaz Eilemi – Abu Adnan
Leonid Alexeenko – Priest
Iaha Mouhamad – The writer
Elia Suleiman – Director
Assaf Amir, Elia Suleiman – Producers
Dhat Productions, Norma Productions –Production Company
Elia Suleiman – Scriptwriter
Marc-Andre Batigne – Director of Photography
Anna Ruiz – Editor
Samir Srouji, Hans Ter Elst – Art Director
Mira Awad – Costume Design
Jean-Paul Mugel – Sound Recording
Stephane Brunclair – Sound Design
Ula Tabari – Casting
Michal Kano Amir, Mima Chermak – Makeup Artist
Harel Kalderon – 1st Assistant Director
Avi Levi – Line Producer
The film was produced with the support of