Arik Einstein: A Standard Love Song
Created by: Assaf Amir, Avida Livny, Yoav Kutner
Documentary Series, 6 Episodes - 52 Minutes each, 2017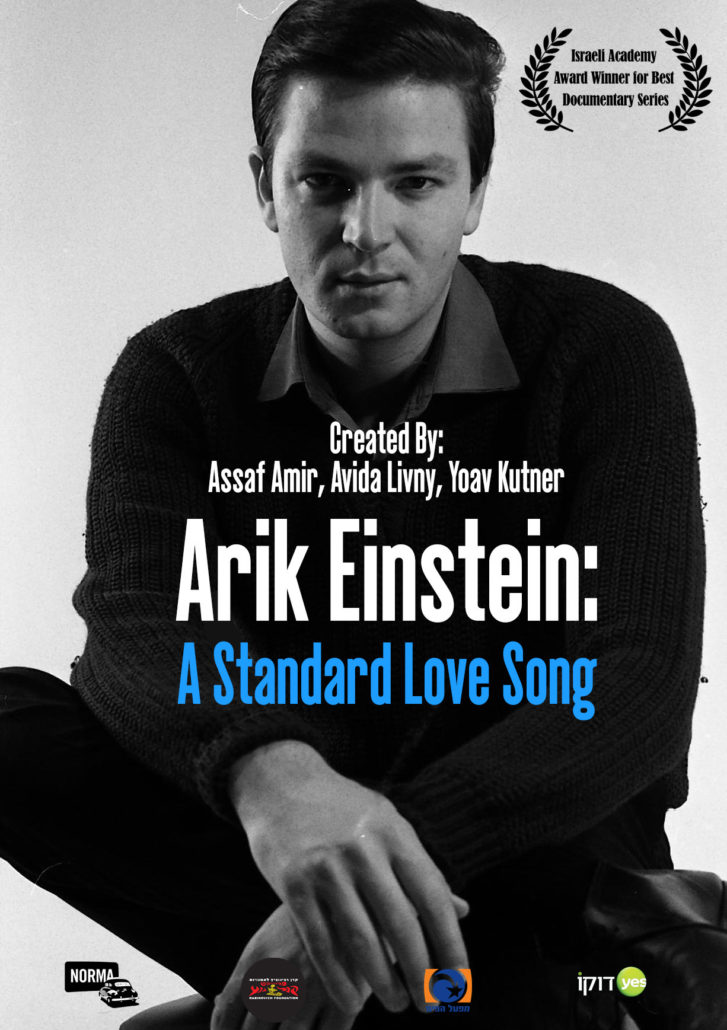 ""Standard Love Song" portrays a wonderful and detailed picture of Arik's great achievements. In-depth research and quality materials present us, accessible and touching, the whole of Arik and his work."
Nadav Menuhin
Walla
"A pleasure for those who grew up on his music… The series provides relief for the yearnings through abundance of interviews and fascinating archive materials"
Ziv Hamerlih Shadar
Mako
A musical biography of one of the most influential and iconic figures in the history of Israeli culture.
"A Standard Love Song" is a musical biography of Arik Einstein, the artist whose voice was an anchor of Israeli culture, and whose story is the story of Tel Aviv and of Israel and Israelis: dreamers, warriors, artists and lovers.
During five decades of artistic breakthroughs, as evident in his 30 albums, Einstein was always an enthusiastic collaborating artist. He discovered young, mostly unknown musicians, adopted them, created revolutions with them, and steered them towards glorious careers. And it always almost began with a surprising phone call from Israel's greatest singer and the offer: "Let's make some music together…"
Assaf Amir, Avida Livny, Yoav Kutner  – Creators
Avida Livny – Director
Assaf Amir – Producer
Yoav Kutner – Content Editor
Tammy Cohen – Co-Producer
Tamar Kay, Jonathan Amir – Editors
David Zarif – Director of Photography
Jonathan Avrahami – Researcher
Nir Alon – Sound Recording
Aviv Aldema – Sound Design
Shlomo Vishinski

‏

Yaron London

Alon Galili

‏

Yossi Frost

‏

Chaim Topol

‏

Rivka Michaeli

‏

Dina Doronne

‏

Ayana Eilon

‏

Israel Gurion

‏

Josie Katz

‏

Ralph Murphy

‏

Shalom Hanoch

‏

Shmulik (Shmelick) Burstein

‏

Boaz Davidzon

‏

Yehudit Sola

Tzvi Shisel

‏

Yanka'le Rotblit

‏

David Tartakover

‏

Miki Gavrielov

‏

Robb Huxley

‏

Dori Ben Zeev

‏

Yitzhak Klepter

‏

Shem Tov Levi

‏

Ariel Hirschfeld

‏

Yoni Rechter

‏

Meir Israel

‏

Mordy Ferber

‏

Jacob Moreno

‏

Moni Moshonov

‏

Beri Sacharoff

‏

Peter Roth

Guy Bukati