Yair Qedar, 2009, 71 min, Hebrew, Documentary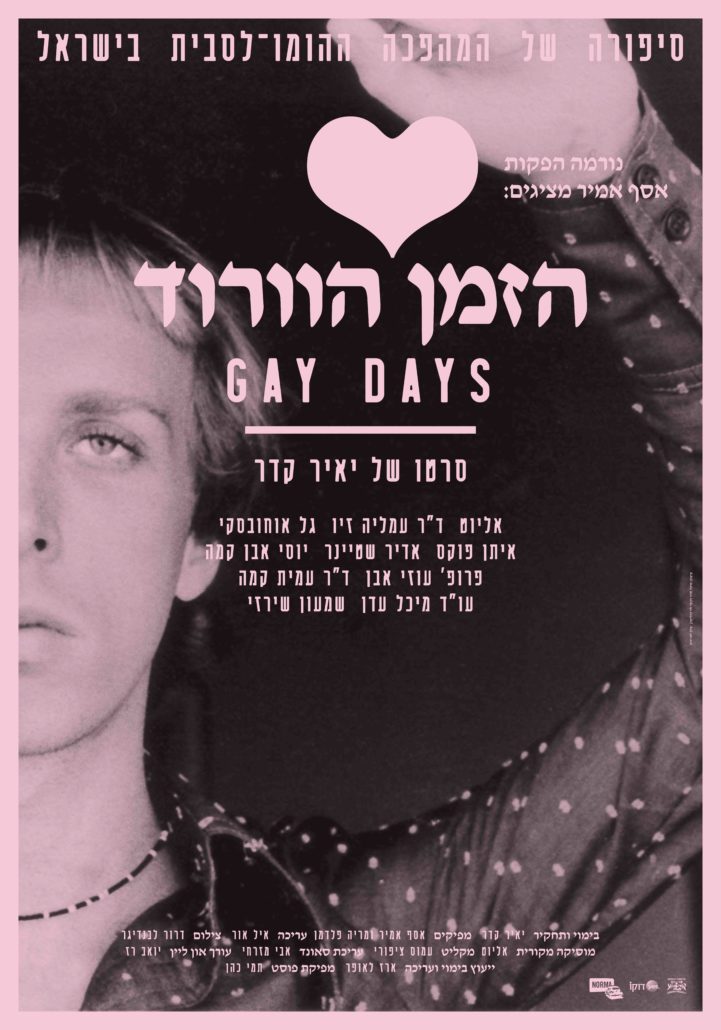 "An important and moving historical document"
Tammy Riklis
Ha'aretz
"Gay Days, Yair Qedar's new film, takes you on a journey to the old gay struggles alongside some touching personal stories... Like many great documentaries, it is an emotional film with great importance"
Yaniv Halperin
Gogay website
Berlin International Film Festival 2010
London LGBT Film Festival 2010
Torino GLBT Film Festival 2010
NewFest – New York LGBT Film Festival 2010
OutFest Film Festival Los Angeles 2010
Docaviv International Film Festival 2009
TLVFEST – Tel Aviv LGBT Film Festival 2009
Gay Days is a Documentary film about the emergence of the LGBT community in Israel
In 1985, there were three gays who were out of the closet in Israel. By 1998, there were 3,000. In this short, intensive and dramatic period, Israel came out of the closet in one of the quickest and most colorful revolutions of the end of the 20th century. There was no bloodshed in this revolution, but a rare cooperation between academics, prostitutes, transsexuals, singers, hairdressers and military officers. The director, Yair Qedar, documented this revolution in his newspaper, 'The Pink Times'. Using rare archival materials, personal stories and touching scenes, and via his own personal diary, the film tells the untold story of the LGBT revolution in Israel in an energetic, bittersweet musical collage.
Yair Qedar – Director
Assaf Amir, Maria Feldman – Producers
Dror Lebendiger – Director of Photography
Avi Mizrahi – Sound Editor
Ellyot – Original Music
Yoav Raz – Online Editor
Erez Laufer – Directorial and Editorial Consultant
Tammy Cohen – Post Production Supervisor
Yosi Even Kama
Prof. Uzi Even
Dr. Amit Kama
Gal Uchovsky
Ellyot
Rommey Hassman
Ronen Vanrero
Dr. Amalia Ziv
Uri Yanetz
Michal Eden
Eytan Fox
Avinof Frumer
Adir Steiner
Shimon Shirazi
Illana Shirazi