Created by: Noa Koler, Erez Drigues, Assaf Amir
Hebrew, Dramedy Series, 2020
10 episodes - 35 minutes each episode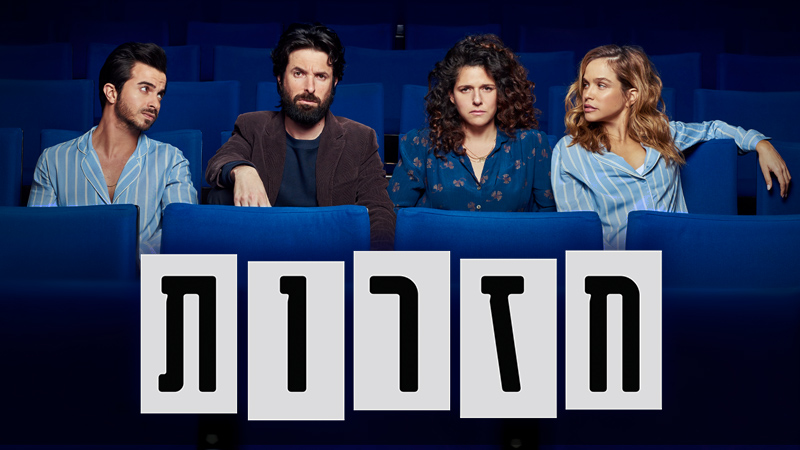 Iris and Tomer are frustrated playwrights who also happen to be a couple. An explosive argument leads them to a nasty breakup, but the minute Tomer walks out the door, he receives exciting news: their dream project, on which they have been working for years, has been picked up by the largest theater in the country and is going to be produced.
Working alongside your ex is never a good idea, let alone just after a breakup. But what makes the task almost unbearable is the fact that this play, written by her and to be directed by him, is a comedy based specifically on the couple's real life relationship.
If things aren't complicated enough, the two actors casted in their roles don't really resemble them, to put it mildly: Maya (as Iris) and Ofer (as Tomer), two TV celebrities who are known as a couple in a popular daytime show .
Iris, heartbroken and determined, is doing everything she possible can in order to get back with Tomer. But working so closely together, with such high stakes, proves to be an eye opener, and she gradually sobers up and finds her own way in the theatre, and outside of it.
"Rehearsals" is a fast-paced comedy depicting the challenging day-to-day work behind the scenes up until the show's opening night..
It gives us a rare glimpse at a less known aspect of the professional theater world while expressing a deep passion for it.
noa koler, erez drigues, assaf amir
Assaf Amir – Producer
Itzik Portal ‎ – Director of Photography
Ifat Tadmor – Editor
Guy Levy– Original Score
Niel GibBs – Sound Design
Ido Dolev – Art Director
Noa Koler
Erez Drigues
Agam Rudberg
Itay Turgeman
Yevgenia Dodina
Smil Ben Ari
Ben Yosipovich
Daniel Shapira