Merav Nahoum, Merav Zurel Shaked, Nir Bergman
Hebrew, Drama Series, 2009
13 episodes - 45 minutes per episode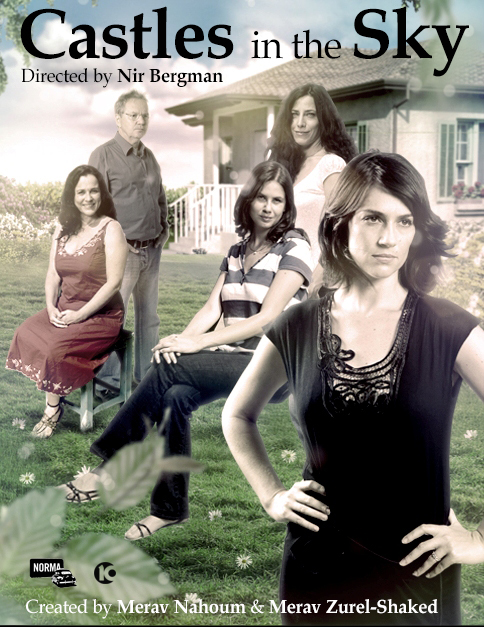 "Nir Bergman draws an intimate web of voices, nuances and happenings that captures the audience from the first episode. The girls' excellent performance hits all the right spots"
Noa Rubin
Nrg
""Migdalim Ba'avir" brings a local sincerity. A talented team of creators and actors make it into a touching series"
Yaron Frid
Ha'aretz
Castles in the Sky is a TV drama surrounding the lives of three sisters who find themselves back at home on the eve of their parents' 35th anniversary.
On the 35th anniversary of Pnina and Reuben, an apparently ideal couple, their three daughters un-expectantly come back to live at home – it's a full house again.
There is Roni, just recently separated and the mother of 6-year-old Zohar; Aya, a successful musician who has just come back to Israel on a surprise visit from New York; and Hilly, a medical student and top achiever in everything but her romantic relationships. Roni and Aya, each unhappy for reasons of her own, come back to the home that Hilly has never succeeded in leaving.
While the girls are busy trying to reorganize their lives, an unexpected crisis breaks out. An old family secret comes to light and throws everyone into confusion, smashing to smithereens the myth of their parents' ideal relationship.
The revelation forces all members of the family, particularly the three daughters, into a reassessment of their lives.  They pass through crises and change as they confront themselves, their relationships and their romantic choices, in the present and in the past.
This is a story of family and love and the price one must pay for maintaining them or casting them aside.
Merav Nahoum, Merav Zurel-Shaked – Creators and Scriptwriters
Nir Bergman – Director
Assaf Amir, Maria Feldman– Producers
Binyamin Nimrod Hiram – Director of Photography
Ayala Bengad, Rony Eisemann, Adi Sarig – Editors
Ido Dolev – Art Director
Ran Bagno – Original Score
Karin Elbaz, Karin Geva – Makeup Artists
Noa Yallon – Customs Design
Liron Zohar, Naama Zeltzman – Casting
Noa Barkai – Roni Sobol
Tali Sharon – Aya Sobol
Adva Bolla – Hilly Sobol
Alon Oleartchik – Reuben Sobol
Irit Gidron – Yael Sobol
Alon Pdut – Yoav
Dani Geva – Uri