Eitan Anner, 2005, 90 min, Hebrew, Romantic comedy
"Dalit Kahan is funny and touching"
Yakir Elkariv
Yediot Tel-Aviv
"The film has the potential to become a local treat"
Gabi Bar Haim
Ma'ariv
Best Feature Film
Toronto World of Comedy I'ntl Film Festival, 2005
A wild romantic comedy. Our heroin, Riki, is surrounded by number of flamboyant characters in situations that are crazy at times but always touching.
Riki, a confused 30-year-old art graduate, seems to be sure that her life is always under control, even when everything goes crazy. While she is looking for a wedding dress, her boyfriend Asher, an unemployed actor, confesses of having second thoughts about the wedding. Her life gets even messier when her bizarre-rock-singer sister invading her place with a group of freaks, her psychologist starts to behave in an unprofessional way and her fiance starts fooling around.
Now Riki has a goal, she wants to win Asher back. In order to achieve that she uses an old familiar trick: to make him jealous. Max, Riki's geek professor, who has a crush on her, is chosen for the job. Riki's plan is working and she is on her way to marry Asher, but in a surprising last minute twist Riki has to evaluate her life choices again.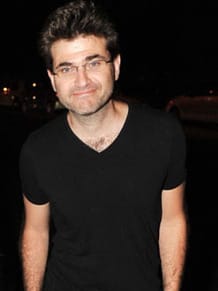 Dalit Kahan – Riki
Tal Friedman – Max
Nir (Niro) Levi – Asher
Michal Kahan – Sharon
Gila Almagor – Batya
Eitan Anner – Director
Assaf Amir – Producer
Dalit Kahan – Scriptwriter
Itzik Portal – Director of Photography
Guido Mar-Hayeem – Editor
Avi Fahima – Art Director
Alon oleartchik – Original Score
Rakefet Bahir – Costume Design
Itay Elohav – Sound Recording
Gil Toren – Sound Design
Tal Kahana – Casting
Ofer Fridberg – Makeup Artist
Orit Zamir – 1st Assistant Director
Itay Tamir – Line Producer
The film was produced with the support of